Archive - January 1, 2022 to December 31, 2022
May 29, 2022

Please see Health Notice #88 for updated COVID-19 information.




read more… May 26, 2022

Good Morning RSU 9 Community,

Please see this School Safety Update from Superintendent Elkington, as well as these two resources for talking to kids about violence.

Thank you.

read more… May 24, 2022

Click for live stream by Mt. Blue TV.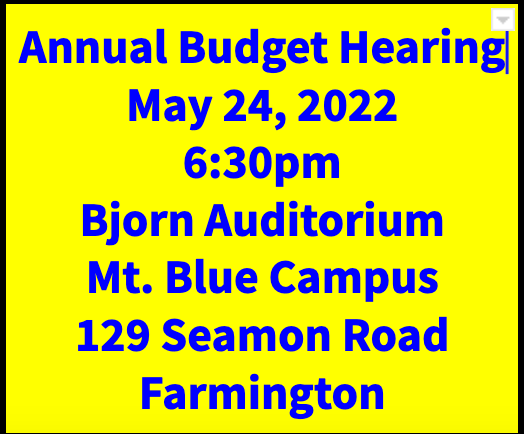 read more… May 20, 2022

Please see this Health Notice #87 for updated COVID-19 information.




read more… May 20, 2022

We hope you enjoy reading the RSU 9 Newsletter for the week ending May 20, 2022.

read more… May 19, 2022

Please see this memo from Superintendent Elkington with several important updates.

read more… May 15, 2022

The International Student Program is looking for host families to host for a year or be a backup during breaks. Please contact the high school at 207-778-3561 for more information.

read more… May 14, 2022

Please see Health Notice #86 for weekly updated COVID-19 information.

read more… May 13, 2022

Please follow this link to the Maine Department of Education's media release on Maine's 2022 County Teachers of the Year. Congratulations to all, but especially our very own Stacey Augustine, kindergarten teacher at W.G. Mallett School.

https://mainedoenews.net/2022/05/12/media-release-maines-2022-county-teachers-of-the-year-announced/

read more… May 12, 2022

Good Morning RSU 9 Community,

read more…