Mt. Blue High School Athletics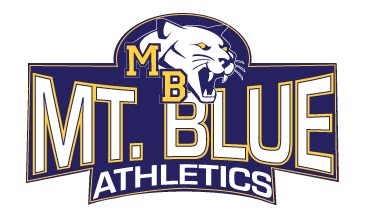 about Mt. Blue High School Athletics
Mt. Blue High School Athletics Program is one of the proudest and most successful high school organizations. Students find that participating in interscholastic athletics is an extremely enriching and rewarding experience that offers student athletes numerous opportunities to enhance their involvement while in high school. The hard work, dedication, and determination that student athletes invest in our teams contributed to positive experiences that build self-confidence and life-long relationships.
Mt. Blue's student athletes are well-respected for the hard work and dedication that is required to be part of a successful team. The Mt. Blue coaching staff, parents, and booster organization each play a vital role contributing to our diverse and successful program. Our teams acknowledge the efforts of these groups by making good sportsmanship a priority while representing Mt. Blue High School. We believe the most important part of establishing a strong athletic tradition is showing respect for opponents, teammates, coaches, officials, our school and oneself.
Athletics Hall of Fame
Information on the Mt. Blue High School Athletics Hall of Fame can be found HERE
Fall Sports Information
All things fall sports can be found here.
Downloadable documents and consent forms
CONCUSSION INFORMATION AND CONSENT FORM
MBRSD SPORTS INFORMATION AND CONSENT FORM
Student Accident Insurance Notice
Extra-Curricular Code of Conduct
More information on Mt. Blue High School Athletics can be found on our website.
Athletic Teams Offered by Mt. Blue High School
(Depending on the number of participants)
| FALL | WINTER | SPRING |
| --- | --- | --- |
| Varsity/JV Football | Varsity/JV Basketball | Varsity/JV Baseball |
| Freshman Football | Freshman Basketball | Varsity/JV Softball |
| Cross Country | Alpine Skiing | Varsity/JV Boys Lacrosse |
| Varsity/JV Soccer | Nordic Skiing | Tennis |
| Varsity/JV Field Hockey | Wrestling | Track & Field |
| Cheering | Competition Cheering | Girls Lacrosse |